VivArt Agency is specialized in:
Caricatures - Cartoons  
We draw caricatures during social gatherings, events.. We can draw by different techniques - by pen, by pencil, aquarelle, pastel etc..
Portraits  
We draw mainly people portraits and horses portraits..
Bodypainting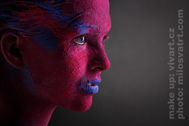 Vivart is champion of Czech Championship in bodypainting - "BODYART AWARD".
We paint bodypainting show during social gatherings, events, for advertisment and promotion or just for fun..
Graphics 
We can offer pc graphics or art hand work..
Photography 
horses, people, nature..
Camera
Scenario, production, camera. Filmed report, short  documentary films..

Design
Interiors..
Choreography
Dance and fashion...
Turn-key operation
Production and arrangement of social gatherings...